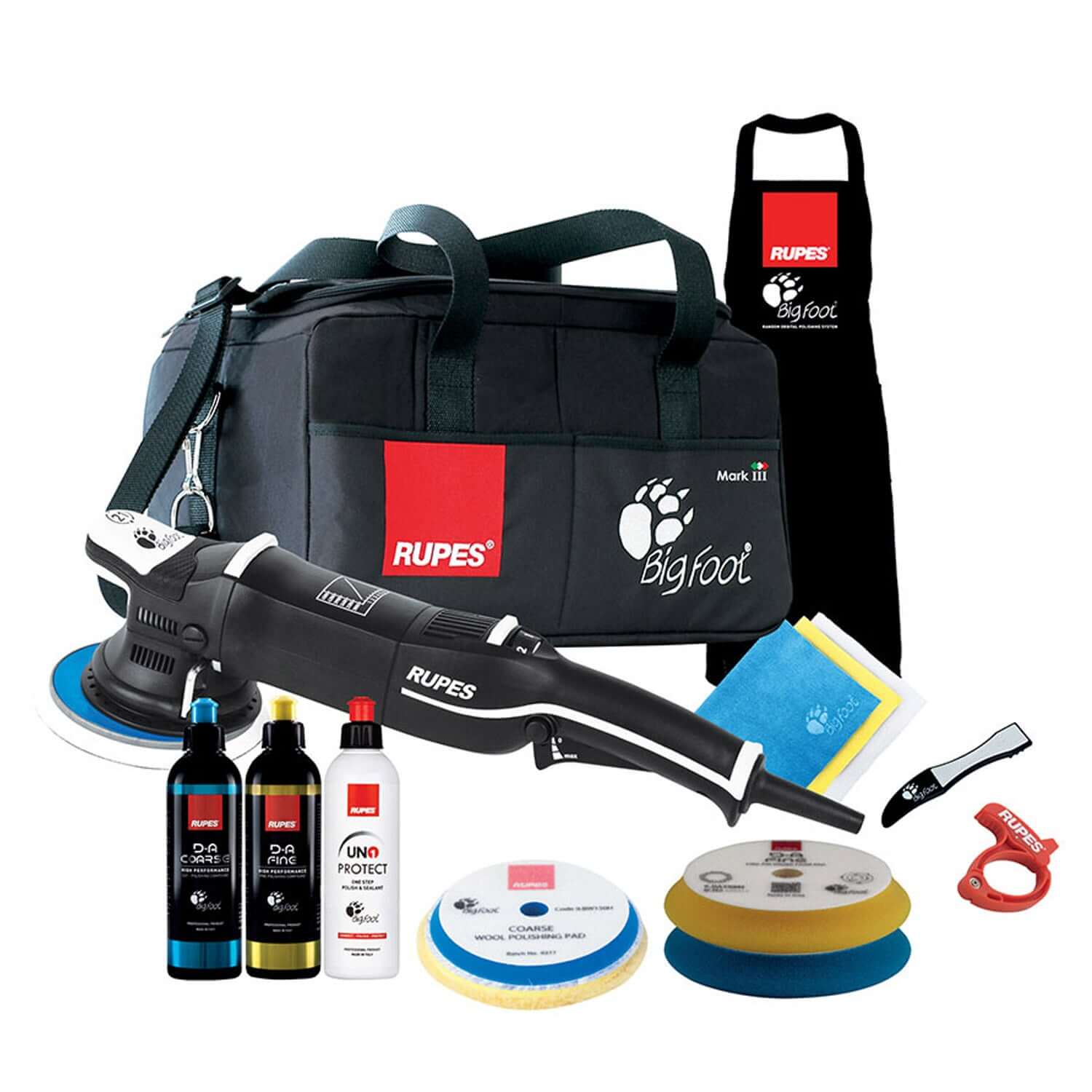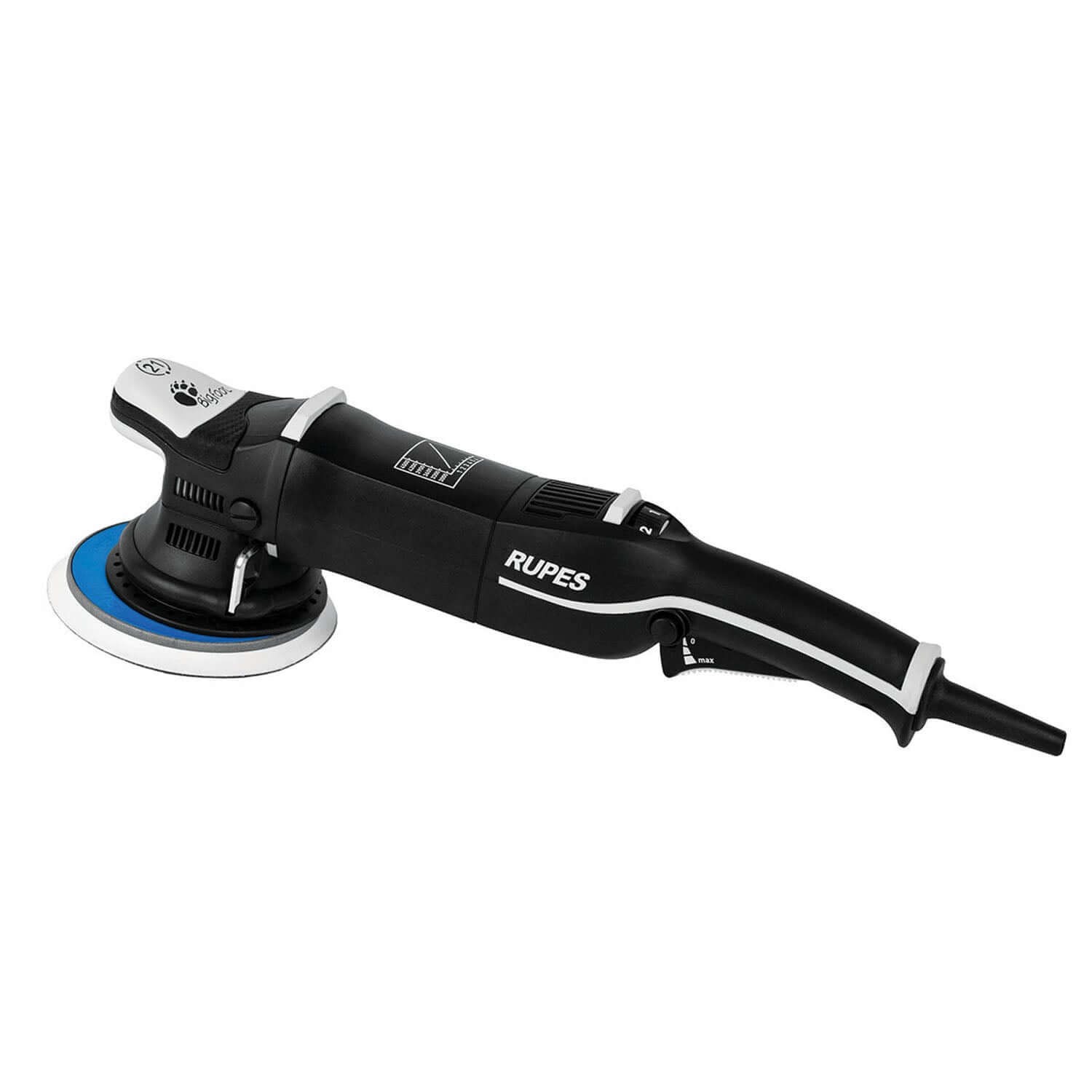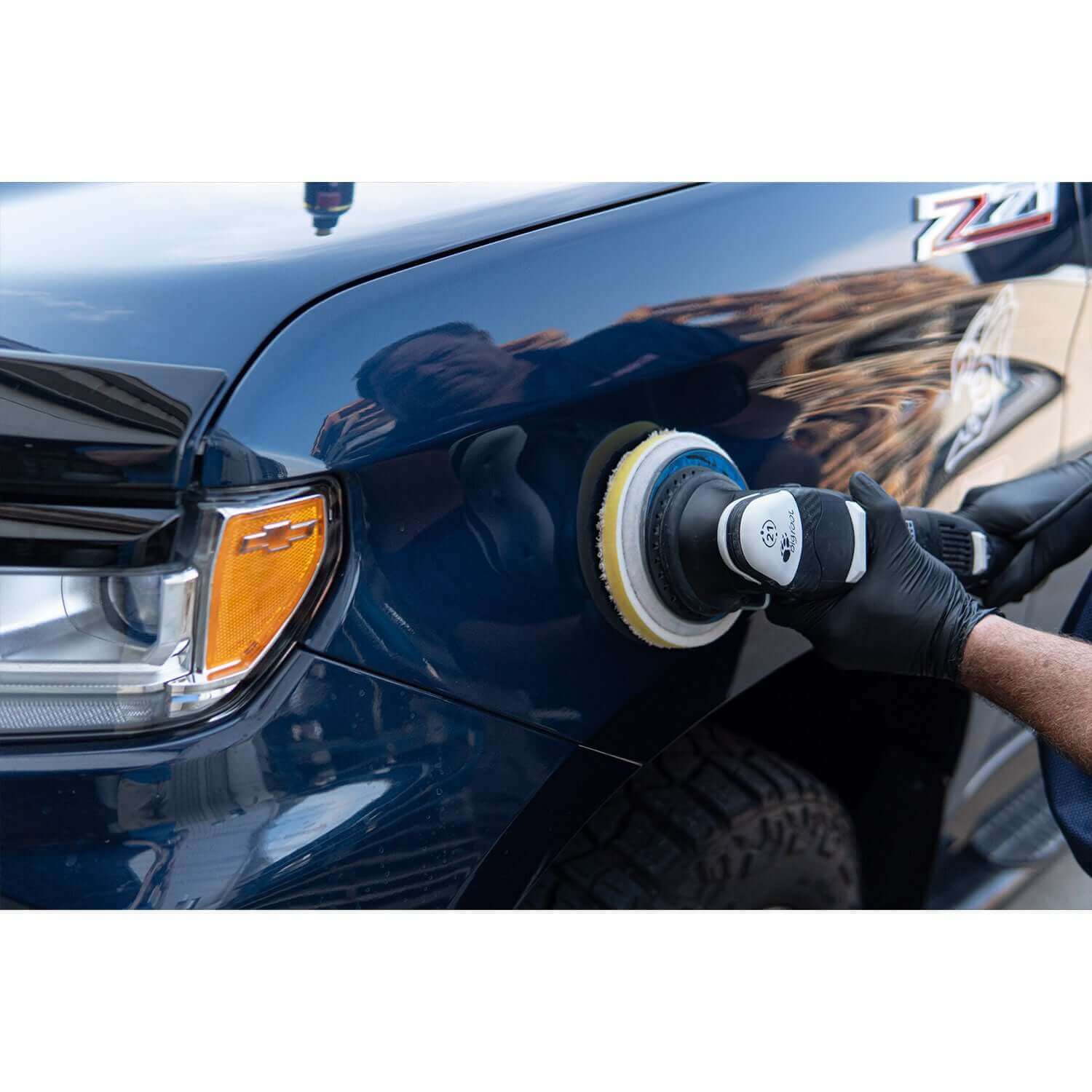 RUPES LHR21III Orbital Polisher Complete Kit
In stock
Pickup available at SNS Auto Supply
Usually ready in 2 hours
RUPES LHR21III Orbital Polisher Complete Kit
SNS Auto Supply
Pickup available, usually ready in 2 hours
500 10th St NE
Suite 210
West Fargo ND 58078
United States
7019972845
Available Size(s) : 6" Backing Plate.
Content(s) : 1 Polisher Kit.
Paint Correction Solutions.
The RUPES LHR21III Orbital Polisher Complete Kit, with its 21mm orbit and its Ø150mm backing pad, the LHR 21 Mark III random orbital polisher is the perfect tool for working large surface areas. The LHR 21 Mark III allows the operator to achieve ultra-high quality finishes, even with limited passes. Improved efficiency guarantees more power and torque on every surface.
IMPROVED ERGONOMICS
The rubberized front grip of the Mark III offers exceptional comfort for the operator while providing a non-slip surface for control. The improved rear handle also integrates rubberized surfaces for improved feel. Two strategically placed, non-marking, tool rests provide stability when the tool is not in use as well as additional protection against unintended impact. The continued refinement of the BigFoot random orbital platform in Mark III reinforce its best in class reputation, making the best even better.
ELECTRONIC SPEED CONTROL DIAL
The new electronic speed control dial allows for easy adjustment of the top speed of the polisher without requiring the operator to move his hands. The larger dial is easily adjusted with a move of the thumb. High visibility numbers and a more positive feedback from the movement of the dial make speed changes feel more deliberate, allowing operators to select the ideal speed for the task without any interruption to the polishing process.
9 METERS ELECTRICAL CORD
The new Heavy Duty extra long 9mt cord is gauged to deliver maximum power to the polisher for safe, efficient operation. The longer cord save you time, steps and hassles since the user doesn't have to use additional extension cords when polishing around a car.
PROGRESSIVE TRIGGER
Adding an additional layer of control is the new progressive trigger. Acting as a throttle to control speeds within the dial range, the progressive trigger allows the operator to make subtle adjustments for precise control without interruption of the process or need to reposition the grip to access the speed dial.
DESIGN
Attention to detail is something more than just attractive design. Every detail, such as the rubber support positioned on the body of the machine to keep it stable during the non-working stages , is the result of meticulous research aimed at achieving maximum operator comfort.
1 Kit Contains:
(1) LHR21III Polisher,
(1) 981.321N 150mm/6in backing plate,
(1)9.DACOARSE250 250ml coarse compound,
(1)9.DAFINE250 250ml fine compound,
(1)9.PURE250 250ml ultrafine polish,
(1)9.DA180H coarse blue foam pad,
(1)9.DA180M fine yellow foam pad,
(1) 9.DA180S ultrafine white foam pad,
(1) 9.BW180H coarse DA wool pad,
(1) 9.BW180M medium DA wool pad,
(4) microfiber cloths,
(1) 9.BF7001 Claw Pad Tool,
(1) 9.Z1024 Cable Clamp,
(1) 9.Z868 detailing apron,
(1)Semi-rigid BigFoot carrying bag, packed in a carton shipping box.
*THIS KIT IS NOT ELIGIBLE FOR ANY DISCOUNTS OR SALES*
Questions Straight From Our Customers
Each chemical product comes with a customer preferred dilution ratio. Gathered from the most popular ratios to use. There is also the manufacturer recommended dilution ratio. See how to mix ratios here.
Currently, we do not offer discounts in bulk quantities. This will be a future feature of our store.
Style(s):
General Recommendation*
Microfiber - Cutting
Wool - Both Cut & Polish
Foam - Polishing
Sizing:
All Sizing is based off of backing plates. The most popular plates are 3", 5", 6" and 8" [Standard Rotary].
Ranges are as Follows:
1" = 30-40mm
2" = 50-70mm
3" = 80-100mm
5" = 130-150mm
6" = 160-180mm
8" = 200mm +
Shipping
No, we currently only ship to the continental US. Dealerships, hobbyists, and detail shops in Hawaii and Alaska can still contact us for servicing in their area. Additional shipping costs will apply, and will be added to the order.
It depends on where you are. Orders placed before 1 P.M. CDT will be processed in the same day. Your package will take 1-5 business days to arrive depending on location and freight service provided to that area. Delivery details will be provided in your confirmation email.
The Search for the latest & greatest...
SNS Auto Supply
SNS has active owners in the detailing industry that take the time to travel across the country to SEMA, MTE Expo, and more dealer shows in hopes to constantly improve the products that we carry for detailers!
Starting Small
The Business
SNS Auto Supply got its start in early 2021. The owners of SNS always make an effort to keep the shelves stocked for our loyal customers so they rarely have to worry about running out of product.