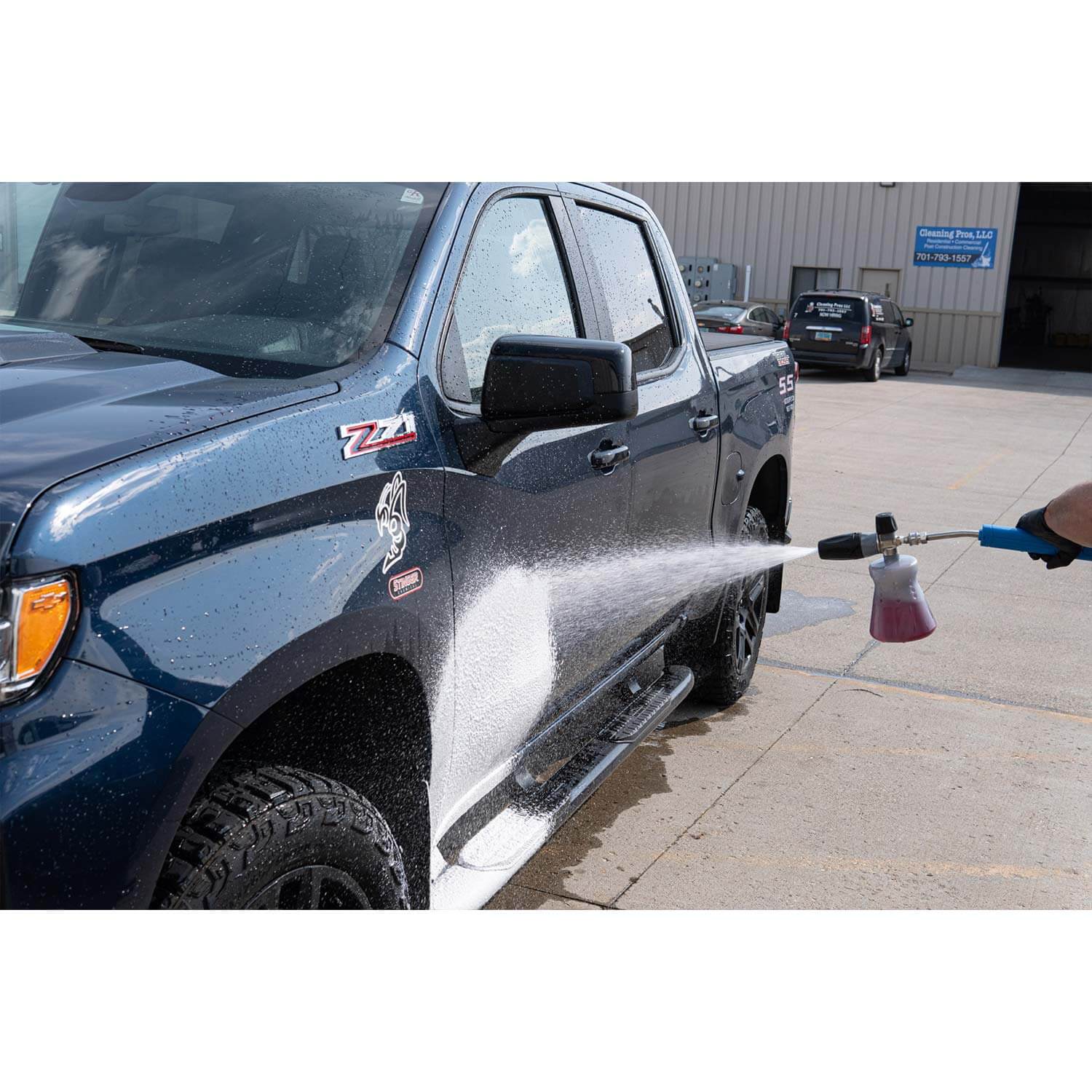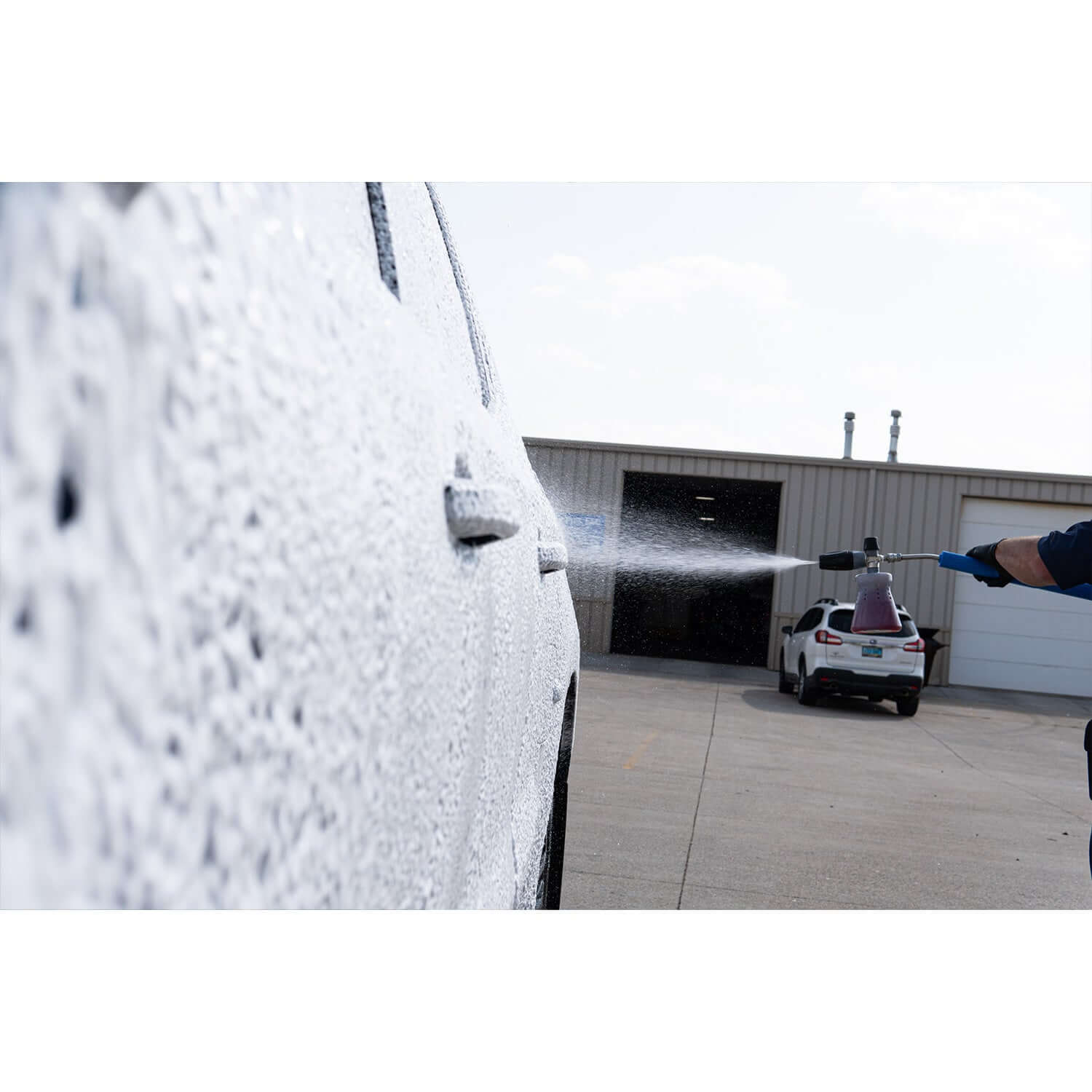 MTM Hydro PF22.2 Foam Cannon
In stock
Pickup available at SNS Auto Supply
Usually ready in 2 hours
MTM Hydro PF22.2 Foam Cannon
SNS Auto Supply
Pickup available, usually ready in 2 hours
500 10th St NE
Suite 210
West Fargo ND 58078
United States
7019972845
Available Size(s) : 32 Ounce.
Content(s) : 1 Foam Cannon.
The Best Foam Cannon on the Market.

The MTM Hydro PF22.2 Foam Cannon is the new standard in the foaming industry and stands alone as the most reliable foam Cannon in the industry. With its new standing bottle you no longer have to worry about spills and tipping over. Whether you are foaming down your car on the weekend or you are a professional contract cleaner foaming hog barn for hours, this tool will save you time and money.  Simply attach the foam cannon to your pressure washer using one of the included fittings, fill with your desired ratio of chemical in the calibrated standing bottle and you are up and running.
The MTM Hydro PF22 launched in 2017 as the latest and greatest foam cannon to hit the world stage. The PF22 offers both, adjustable fan blades, and a two stage nozzle allowing you to spray vertically and horizontally. By adjusting the fan blades (narrow or jet) MTM Hydro Foam cannons throw thick foam onto your vehicle, pole barn siding, house, fence, sidewalk, roof or other washable items. The chemical injection knob on top of the PF22 also clicks and allows for precise measurement of more or less chemical to be drawn through the internal chamber, increasing or decreasing the foam output. This allows the internal agitator to create a dense foam that is stickier than the Chinese knock-off foam cannons. In doing so, this thick foam has a longer dwell time which allows the chemical to work on the cleaning surface for longer in its effort to emulsify the dirt and grime. some surfaces may still require some elbow grease, however, if the chemical does its job, very little (if any) scrubbing is required.
Note: The full spectrum of ratings are not supported by the 3.5 or 3.0 orifices included with this kit. Other orifices may be required for higher flow machines that have lower PSI- Example: 2000 PSI with 3.5 GPM requires a 5.0 Orifice. For larger orifices, you will know it does not work because you will experience starting and stopping of the foam cannon as your unloader slips in and out of bypass. You will also get watery foam as the orifice size 3.5 is significantly smaller than the 5.0 needed for your machine. MTM Foam Cannons will not work with flow sensing unloaders as you will experience the same results listed for an under-sized orifice. See below for additional orifice sizes and replacement items available for purchase.
Specs:
Min. 1,100 psi - Max. 5,000 psi
Min. 1.4 gpm - Max. 5.3 gpm
Max. 140°F
1 Kit Contains;
1 - Italian Nickel Plated Brass -Single Cast Foam Cannon body
1 - Italian Calibrated 32 oz New Stand up Grey Bottle
1 - 1/4" x 9" tube for drawing chemical
1 - 3.5 Orifice (1.25mm) installed in the Foamer Body
1 - 3.0 Orifice (1.1mm) included with kit
1 - Fitting pack (2-pieces) containing a 1/4" M22 adaptor and 1/4" QC Plated Steel Plug
1 - Manual with care instructions and exploded view
Questions Straight From Our Customers
Each chemical product comes with a customer preferred dilution ratio. Gathered from the most popular ratios to use. There is also the manufacturer recommended dilution ratio. See how to mix ratios here.
Currently, we do not offer discounts in bulk quantities. This will be a future feature of our store.
Style(s):
General Recommendation*
Microfiber - Cutting
Wool - Both Cut & Polish
Foam - Polishing
Sizing:
All Sizing is based off of backing plates. The most popular plates are 3", 5", 6" and 8" [Standard Rotary].
Ranges are as Follows:
1" = 30-40mm
2" = 50-70mm
3" = 80-100mm
5" = 130-150mm
6" = 160-180mm
8" = 200mm +
Shipping
No, we currently only ship to the continental US. Dealerships, hobbyists, and detail shops in Hawaii and Alaska can still contact us for servicing in their area. Additional shipping costs will apply, and will be added to the order.
It depends on where you are. Orders placed before 1 P.M. CDT will be processed in the same day. Your package will take 1-5 business days to arrive depending on location and freight service provided to that area. Delivery details will be provided in your confirmation email.
The Search for the latest & greatest...
SNS Auto Supply
SNS has active owners in the detailing industry that take the time to travel across the country to SEMA, MTE Expo, and more dealer shows in hopes to constantly improve the products that we carry for detailers!
Starting Small
The Business
SNS Auto Supply got its start in early 2021. The owners of SNS always make an effort to keep the shelves stocked for our loyal customers so they rarely have to worry about running out of product.